Zardari, Imran demand Nawaz's resignation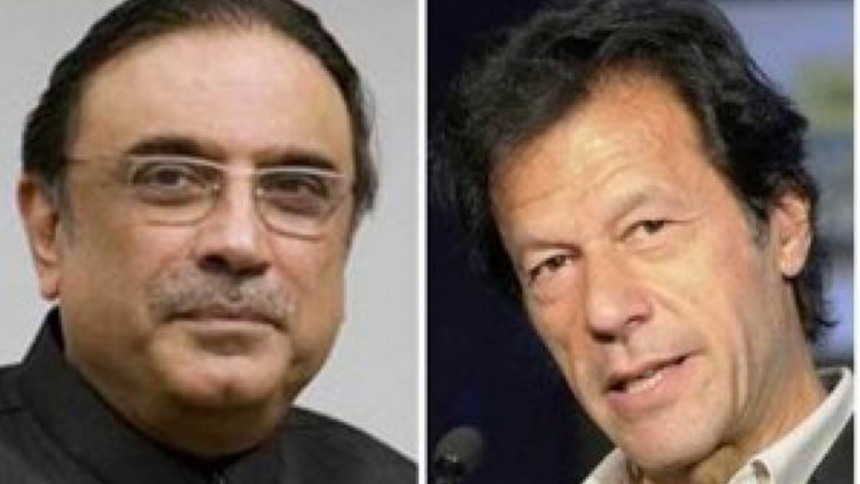 Pakistan Peoples' Party Co-chairman Asif Ali Zardari and Tehreeke-e-Insaf (PTI) Chairman Imran Khan have demanded immediate resignation of Prime Minister Nawaz Sharif, reports local Geo TV.
Zardari said, "Prime Minister Nawaz Sharif should resign ethically. I condemn the Supreme Court`s decision and reject it," further adding, "Today democracy and justice were adversely affected."
He said that the majority of junior judges have joked with the people of Pakistan, however, the senior judges have given the finest decision. 
"I salute the two senior judges," he said.
Want to congratulate the nation on this SC judgement, esp PTI workers who stood steadfast with me throughout. Celebrate your success today.

— Imran Khan (@ImranKhanPTI) April 20, 2017
The Supreme Court today ordered further investigations into corruption allegations leveled by the opposition against Prime Minister Nawaz Sharif, saying there was insufficient evidence to order his removal from office.
The detailed decision by the apex court comprised a total of 540 pages, with the verdict split 3-2 between the five-member apex court bench.
Two dissenting judges on the five-member bench were of the opinion that Prime Minister Nawaz Sharif had not been honest to the nation and that he should have been disqualified.
The five-member bench led by Justice Asif Saeed Khosa had reserved its verdict in the case on February 23. The decision comes ahead of general elections scheduled to be held next year.
Meanwhile, told reporters, "On behalf of the Pakistan people I tell Nawaz Sharif to resign immediately until the probe is completed.,"
He said also that Sharif did not have any moral authority left to continue as prime minister of the country.
"How can he [Nawaz] remain the prime minister, what authority does he have? There will be a criminal investigation against him and his family," Imran ephasised. "What respect will he have when a government officer calls the prime minister for a criminal inquiry."
Terming the apex court verdict "a historic judgment in Pakistan's history", he said that all five members of the bench had has rejected PM Sharif's explanation into his source of income and money trail that led to his children's offshore holdings.
"I demand Nawaz Sharif to resign today. Sharif should resign because he will not allow an impartial investigation," he said.
"If Sharif is cleared in 60 days after the joint investigation team's report, he can continue to serve as the prime minister, but at the moment he has no ethical right to serve on this position," said the chairman of the PTI, which has been a major stakeholder in the Panama Leaks case.
Imran said that only two of the institutions whose members will be part of the JIT fall under the Chief of Army Staff, while the rest come under the prime minister. "Hence, he must resign immediately in order for an impartial investigation to be conducted," said the PTI chairman.