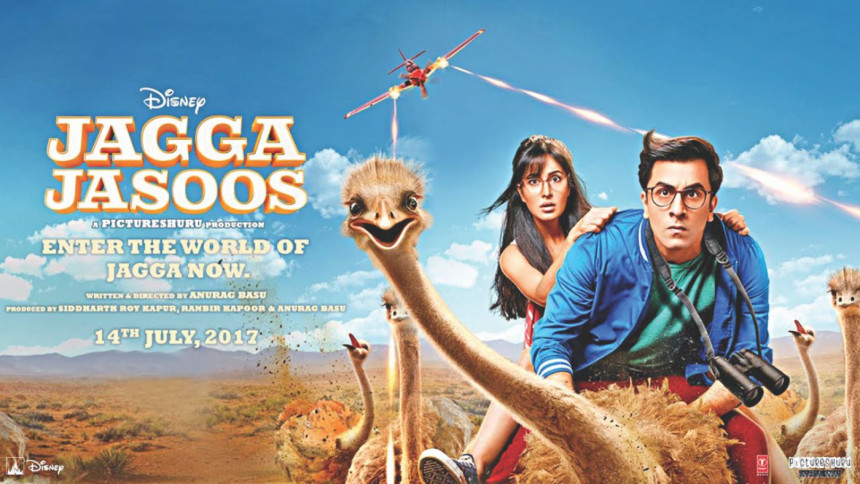 Director: Anurag Basu

Cast: Ranbir Kapoor, Katrina Kaif

Strength: Dialogues

Weakness: Songs

Runtime: 162min

Rating: 8/10
PLOT: The story revolves around the 1995 case of Parulia Arms Drop to allegedly dethrone the then Communist Government of the West Bengal, India. Ranbir Kapoor plays Jagga as an inquisitive and shy young man in a little town living with his clumsy father Bagchi, who disappears on him after getting him admitted into a boarding school. Jagga's only contact with his father is a VHS tape that he would get consistently on his birthday. Wanting to investigate the mystery of his missing father, Jagga gets himself involved in a smuggling racket as he embarks on the mission with Shruti (Katrina Kaif), a clumsy Kolkata base journalist with her own particular criminal case to solve.
REVIEW: As Shruti starts narrating a chapter of a comic book to her students, viewers will get pulled into Jagga's world through the cinematographer Ravi Varman's camera lens. Anurag Basu's experiment was not limited to the music only. There was a comic touch to everything that would make the viewer want to take a ride through Jagga's world. Starting from Jagga's Tin-Tin like hairstyle to moving props, be it Jagga's special bike, a giraffe, an ostrich or a decorated elephant crossing the road, every element will pull you more and more into the film as the plot progresses. Ranbir Kapoor's goofiness, musical way of revealing mysteries and longing for his father is sure to win everyone's heart.
Despite the stunning visuals and cinematography in the first half of the movie, the second part lost its composure and became multi-dimensional as there was too much going on and it seemed as if it was stretched towards the solution. But Anurag Basus's outstanding vision, Ravi Varman's amazing work with the camera, Amitabh Bhattacharya's rhyming dialogues and Pritam's tune made the movie poster perfectly soothing like any other Disney productions. This spectacular piece of work is definitely worth a watch.
Reviewed by Shamma Shawki Arpita