Classic Film Review
Breakfast at Tiffany's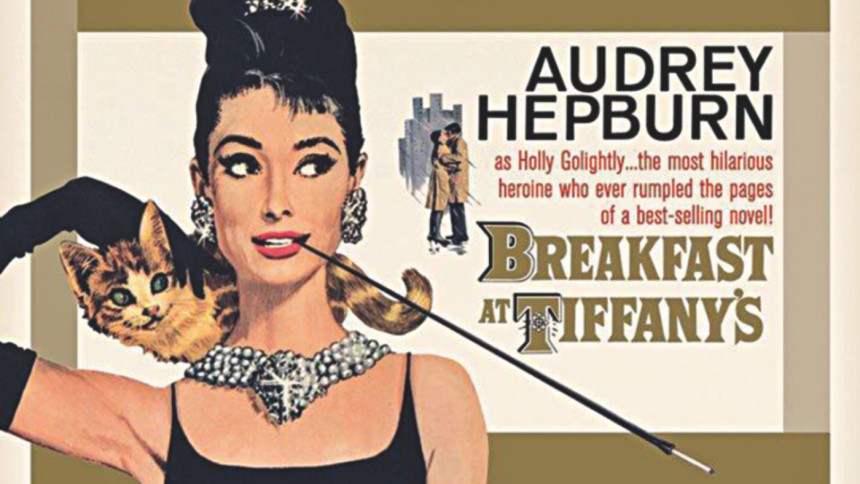 Director: Blake Edwards
Screenplay: George Axelrod
Cast: Audrey Hepburn, George Peppard, Mickey Rooney, Patricia Neal
Duration: 114min
PLOT: Loosely based on Truman Capote's novella, Breakfast at Tiffany's is the story of a young, paid "party girl" living in New York who meets a young struggling writer when he moves in to her apartment building. While looking for a rich, older man to marry she discovers her true self around her new neighbor, making him fall in love with her in the process. He is kept by a wealthy woman who pays him well in exchange of his time. With things almost falling apart around the end, the film shows a rushed yet desired twist.
REVIEW: Breakfast at Tiffany's is a 1961 romance-comedy film loosely based on the novella of Tuman Capote under the same name. Even though the novella was based on the 1940s, the movie was based on a 1960s setting. Furthermore, the film portrays a happy ending which involves Holly Golightly (Audrey Hepburn) and Paul Varjak (George Peppard) falling in love with each other and ending up together, unlike the novella that mentions no love affair whatsoever.
Despite being a romantic comedy, the film has suggestions of blue moments which eventually build up to a happy ending. George Peppard's character suffers a bit of deficiency in the script because of the lack of explanation or description as to why he is kept by a wealthy woman but that inadequacy is brilliantly overcome by the dexterous acting of Peppard. Audrey Hepburn delivered an appealing performance; the things Holly says and does might come off as kitsch from most people, but Audrey Hepburn manages to make it seem alluring without any struggle. This unusual yet sophisticated love story portrays the glamorous lifestyle of Miss Golightly who lives chiefly on the 'powder room' and 'cab fare' given her by her escorts, steadily portraying her as an immoral but virtuous character.
A marvelous classic film way ahead of its time, Breakfast at Tiffany's is an absolute favorite to the film fanatics. With an enchanting song like Moon River winning an Academy Award, this film is still on the top of the list of must-watch movies in history.
Reviewed by Munia Islam