Govt considers the judiciary its rival: Fakhrul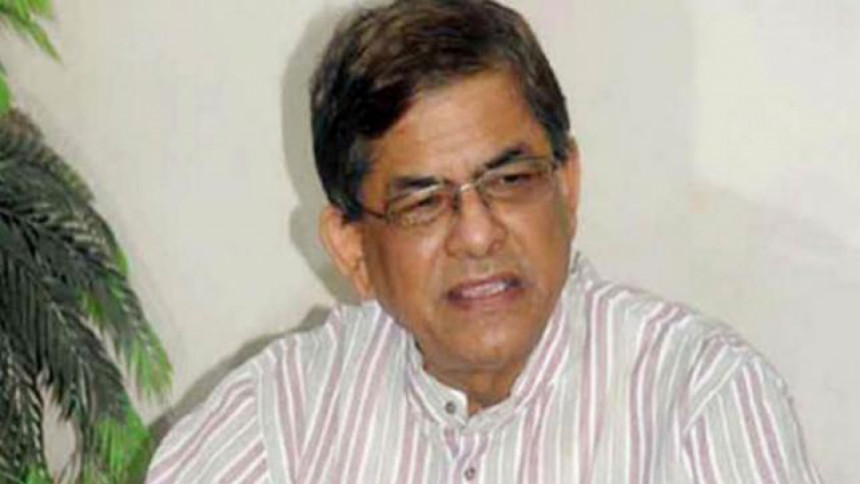 BNP Secretary General Mirza Fakhrul Islam Alamgir yesterday alleged that the government took the judiciary as its opponent following the release of the full verdict in the 16th constitutional amendment case.
"It has become clear through the statements of the finance minister and the health minister that the government has taken the judiciary as its opponent," he said.
The BNP leader was addressing a discussion organised by Jatiyatabadi Ainjibi Forum in Old Dhaka.
Fakhrul said people's opinion was reflected in the SC's observation.
"There was a discussion in the cabinet meeting after the release of the full verdict. I don't know whether the way the ministers talked in the meeting was tantamount to contempt of court."
Terming the verdict a historic one, he said the judgment clearly said about the current political situation of the country. "It was their [Awami League] responsibility to protect democracy. But they have become a monster and destroying everything."
Speaking at another programme, Jatiya Samajtantrik Dal President ASM Abdur Rob said mobilising public opinion against the judiciary and announcing war against the court was a dreadful act.
"Those who are in the government have already committed contempt of court. If anyone files a case, it will be accepted. It is dangerous to threaten the judiciary. Its consequences would be beyond imagination," he told a discussion hosted by Nagorik Oikya at the Jatiya Press Club.
Eminent jurist Shahdeen Malik said, "It has been proved through this judgment that the judiciary is independent and it still has a strong mentality to pronounce a verdict independently."
He observed the future of article 70 of the constitution was not very bright.
Mahmudur Rahman Manna, convener of Nagorik Oikya, alleged that the government was trying to "bring the full verdict to the street" which was a dangerous intention.
"The judiciary didn't give any verdict against the government. The judiciary tried to give a directive considering all the aspects since the country's independence and it should be followed."
He also said the way the AL men were reacting to the verdict was dangerous.  "We think right now all the political and social organisations and people should thank the judiciary for the historic verdict and stand by it."