IPDC Ogroj: Dr. Atiur Rahman's discusses his journey towards excellence in academics and governorship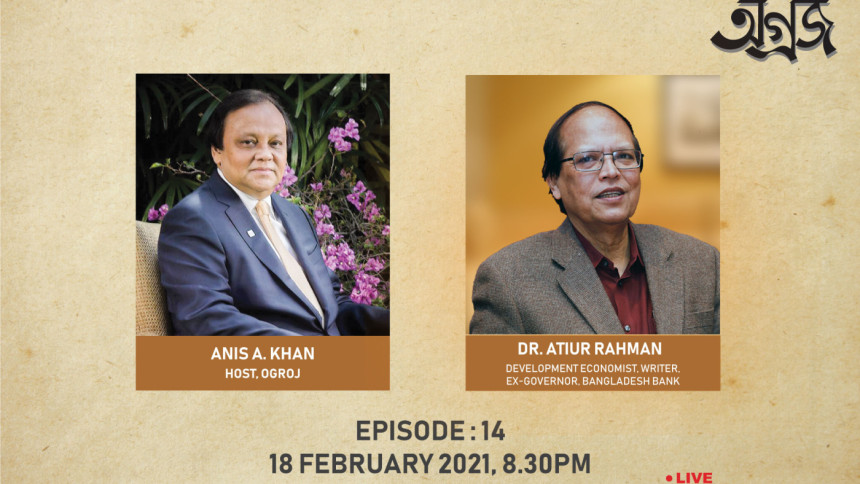 Dr. Atiur Rahman was the distinguished guest on the fourteenth episode of IPDC Ogroj. He talked about his life growing up, his journey towards attaining higher education, dedication towards digitizing and revolutionizing the banking process of our country from a central role. The session was moderated by venerated banker Anis A. Khan.
Dr. Atiur Rahman was the 10th Governor of Bangladesh Bank. He's a world renowned economist with multiple publications and papers attached to his name. He has engaged in various national and international projects that helped people eradicate poverty, especially women in the rural communities. He has publications that span multiple subject matter, from war and economics, to society and social development. He was also awarded "Central Banker of the Year 2015" from the Asia-Pacific region, in recognition of his achievement in supporting lending to farmers and small and medium-sized enterprises (SMEs) without compromising growth and macroeconomic stability, by the London-based Financial Times owned magazine, The Banker.
Born on 13th December, 1953, this iconic figure is currently a professor in Dhaka University's development studies department. He was appointed the "Bangabandhu Chair" by The Dhaka University Syndicate on November 1st, 2019. 
He talked about his small beginnings from being a guy from a small village to getting into Dhaka University through hard work and sheer determination.
"I had never even been to a proper city before, let alone live there. When I got into Mirzapur Cadet College in Mymanshingh, I was a bit flabbergasted at first, because it was a completely different scenario from what I was used to. It was a melting pot of different cultures, backgrounds and people. Nevertheless, with the help of my teachers there, who were the guiding lights of my path, I was able to persevere college with outstanding results and got the chance to study in Dhaka University. They were the ones that taught me to take challenges head on.".
He talked briefly about his father, how he inspired and supported him to strive for something better always. His mother, his uncle, a local high school teacher, who taught him English and especially his wife, who is the pillar of his life. He talked about how he's learned so much through his wife, Professor Shahana Rahman, Pro Vice Chancellor of Bangabandhu Medical University and pediatrics professor, and what a principled and gallant woman she is. He also talked about his three wonderful daughters and how they supported him to be a better person every day and how their names were inspired by Rabindranath Tagore's writings.
He also talked about his journey throughout university life. How his love for writing and researching started there as he used to write for various local newspapers and also worked as an editorial assistant at a newspaper called Daily People. After graduating, he began working as a planning officer at the Tourism Corporation to support his family as well as complete his masters.
"I used to go out with a tie in my pocket, putting on that tie on the way to work, work till 2:30 in the afternoon and then catch the classes scheduled on the evening. I used to collect notes from my friends from the morning classes that I couldn't attend. By the grace of the almighty, I completed my masters and went abroad with a scholarship to pursue further education".
After completing notable stints in multiple national banks and various social organizations, he was appointed the 10th governor of Bangladesh Bank. As soon as he came to the line of work, he knew it was time to drastically change the structure of the banking system entirely and began modernizing and digitizing it. He took the initiatives to go towards online banking as well, which made transactions even smoother and efficient and instituted the Bangladesh Automated Clearing House. The foreign exchange reserve reached a record $32 billion dollars at the end of his tenure in 2016. He also made the banking houses focus heavily in CSR activities, green banking, providing small loans to women entrepreneurs, and climate change. As a result of his regulations, banks are heavily investing in CSR activities, which in turn help society in general.
When asked about his hobby, he said that his favorite thing to pass time was writing, and it is mandatory to read a lot as well if one wishes to write properly. He also watches historical shows to enrich his knowledge and dabble in more conversations and research with his beloved students.
The segment wrapped up with him imploring the youths of our nation to love their nation and focus on taking us further in the global pedestal.
"One does not belong to the country he was born in. You need to know your country, its people, its culture, and love every inch of it. You have to come together as a nation, regardless of your differences and work towards getting our country to new heights. Study properly, it is one of the biggest weapons in attaining success. Those of you who are becoming entrepreneurs, just keep at it. You will face troubling times, failures, it's how you take lessons from it and keep trying is what matters the most."
IPDC Finance Ltd presents Ogroj takes place from 8pm - 9pm every first and third Thursday of the month. Guests on previous episodes include ex-Finance Secretary Matiul Islam, CPD Founder-Chairperson Prof Rehman Sobhan, Adcomm Limited Chairperson Geeteara Safiya Chowdhury, ex-Finance Minister AMA Muhith, ex-Bangladesh Bank Governor Dr Farashuddin Ahmed, ACI Limited Chairperson M Anis Ud Dowla, novelist Selina Hossain, ex-Finance Minister M Syeduzzaman, MediaWorld Limited Chairperson Rokia Afzal Rahman, composer Shujeyo Shyam, and dramatist Ramendu Majumdar.